News
JUNE 13 TEST DAY LIST NOW POSTED (REVISED JUNE 7)
posted May 31, 2017 12:29
The schedule for the Tue Jun 13 STARSkate Test Days is now posted on our TEST DAY page. Note that testing begins early at 2:45 pm, and finishes at 8:50 pm.
Please double-check the time(s) you skate!! And ensure you are at the arena with skates on, ready to test, 45 minutes BEFORE the stated warm up time.
Good luck to all of our skaters trying tests this week!
Please note: Regular skating sessions are cancelled for Jun 13 due to the test day schedule. You were not charged for this sesssion in your program fee.
FRI MAY 19 TIME CHANGE
posted May 18, 2017 14:03
To all skaters registered for spring Friday evening skating:
At the time of registration, skating this Friday evening May 19th, was shifted 2 hours back due to a scheudling conflict at the rink. This conflict has been resolved, and Friday evening's session will now be held at it's regular time:
Preliminary/Junior A Groups: 5:00-6:30 pm (flood @5:50-6:00)
Open STARSkate Session: 6:30-7:50 pm
Also a reminder that there is NO SKATING next Friday, March 26. You were not charged for this session during registration.
Please note that dates listed as 'no skating' dates on registration materials and the website are due to KNOWN ice cancellations, and were NOT included as part of your program fee. There will be no 'make-up' sessions for 'no skating' dates.



SELECT TRYOUTS FOR 2017 FALL SEASON: APR 11 & 22
posted Apr 05, 2017 23:32
Tue Apr 11, 2017, 6:00 - 7:00 pm AND Sat Apr 22, 2017, 10:00 - 11:00 am
Nichols Arena 'A' Pad, 799 Homeview Road, London
---
COST: $20 (fee allows you to attend one or both days -- fees are not prorated if only a single session is attended)

Note: Skaters must have a current Skate Canada membership. If you do NOT have a current membership, this will be automatically added to your shopping cart at checkout.



---
Qualifications:
Skaters should be working on CanSkate Stage 3 at a minimum before trying out for the Select Team.
Skaters at higher levels of CanSkate, and our STARSkate programs (Preliminary groups or private lessons) are also wecome to attend tryouts.
If accepted, skaters will be placed in the correct Select Level based on their demonstrated skill level.
---
Required Equipment:
Figure skates or hockey skates.
Skaters must wear a CSA approved hockey helmet until completion of CanSkate Stage 5.
---
For more information abot the program, visit our Select Team webpage: www.londonskatingclub.com/pages/STARSkate/Select/
---
FAQs
What is Select?
Select is a program that provides Talent Identified skaters a more intensive training program to allow them to fully utilize their skills with the end goal of developing competitive skaters in a group coaching model and team environment. The program for the 2017/2018 skating season will be divided into four levels:
Level 1 is Advanced CanSkate for skaters typically but not limited to CanSkate Level 4-6. Skaters will skate two sessions per week, both group format
Level 2 is two sessions per week, both group format
Level 3 is three sessions per week, two of which are group format, and one semi-private format
Level 4 is four sessions per week, two of which are group format, and two semi-private/private format
Skaters will be coached exclusively by select team coaches, and coaching fees will be included in Select program fees at time of registration
Note that not all skaters who try out will be a good fit for the program, and may be encouraged to register in fall programs to which they are better suited.




Further details of the new Select program will be provided to skaters and parents at the time of tryouts and with acceptance letters, so skaters can make a fully informed decision before accepting a place on the 2017 Select Team.
What skill sets of skaters qualify? Is there an Age Limit?
Skaters will be invited to attend the program based on their skills, work ethics, passion for the sport of skating and ability to take instruction. Age is not considered when evaluating. Skaters should be working on CanSkate Stage 3 at a minimum before trying out for the Select Team.
When will invitations be sent?
Invitations for the Select 207/2018 Program which begins September 2017 will be sent on or about April 30th. We are aligning to the date the Synchronized Skating invitations will be sent to allow skaters and parents to review their family specific constraints to allow skaters to pick which works best for them. The Date to decide will be included on the invitation. Acceptance will require a commitment to the program however the exact days and times will not be available until the summer because we will not know what days or times the City will be allocating ice to the club until that time.
My skater is currently a part of the select team for fall/winter/spring 2016/2017. Do they have to attend Try-outs to maintain their place on the team?
Yes, all interested Skaters are required to participate in the try-out. In part for the experience and in part to allow the coaches to evaluate your progress and allocate you to the proper Level of the team for the 2017/18 year.
I love Synchronized Skating or I plan to play hockey. Is this program for me?
While the higher stages of Select are geared toward preparing skaters for competitive singles figure skating, the early stages of Select will be foundational for all aspects of skating, geared toward the accelerated development of skilled/powerful skaters. Skaters may choose to transition from this program after these foundational stages, with a strong skill set that will allow them to excel in all skating opportunities within the Club, such as Power Skating for future hockey players, singles skaters who wish to focus on developing their skating outside of the group model or synchronized figure skating when that time comes. The intent is not to restrict anyone to a single aspect of Skating at the early stages of their development, but allow ALL skaters the chance to excel.
I cannot make one of these Try-out dates. Will there be future opportunities?
Skaters can request for an evaluation at any time after the initial try-outs are completed in April. However, since space will be limited we encourage all interested skaters to give this a try in April to maximize your opportunity to participate.
MARCH NEWSLETTER NOW AVAILABLE!
posted Mar 24, 2017 22:35
The March 2017 edition of the London Skating Club's newsletter is nowavailable for viewing/download.
Check it out on our Newsletter page: https://www.londonskatingclub.com/pages/Members-Info/Newsletters/
NEW FRIDAY SKATING SESSIONS ADDED TO SPRING
posted Mar 22, 2017 20:43
Due to higher than anticipated numbers of skaters registering for our spring skating sessions, our existing Preliminary/Junior A Group session, and most STARSkate private sessions for Preliminary. Junior A and Junior B skaters are full and accepting skaters on waiting list.
In response, we have created two new sessions in the spring on Friday evenings: a Preliminary/Junior A Group session at 5:00, and an Open STARSkate session at 6:30.
If you/your skater is already registered on other programs in the spring, and you would like to add the Friday program to your skating schedule, just add the new session to your shopping cart, and proceed to checkout. The mutli-session and multi-skater family discounts will apply to these sessions.
If you would like to TRANSFER from another session to the corresponding session on the Friday evening, email the office at info@londonskatingclub.com, and ask to be transferred to this program (no administration fee will be charged for this transfer).
NOTE if you have already scheduled private lessons with a base coach on an existing session, be sure to consult your coach about your desire to switch sessions to ensure you can be accomodated before changing your registration.
SYNCHRONICITY SEEKING COACH APPLICATIONS
posted Mar 16, 2017 11:18
London Skating Club Synchronicity is currently seeking coaches for the following positions within our coaching team:
Coaching position within our adult program
Coaching position to assist in the growth and development of our competitive synchronized program
For a full description, and application detais, visit our Synchronicity Coaching Page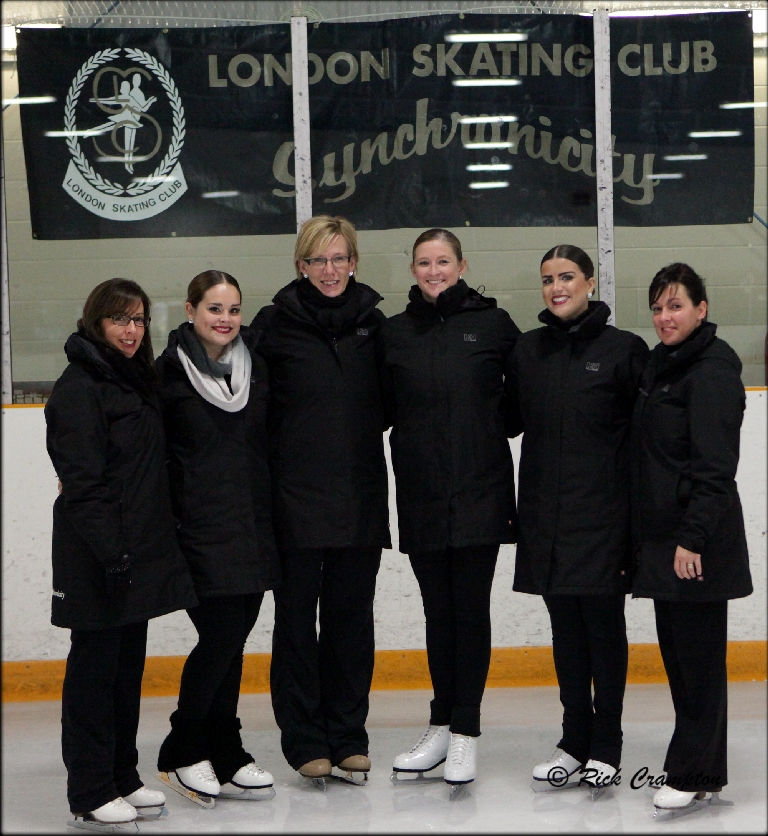 2017 SYNCHRONICITY TRYOUTS APR 18/27
posted Mar 15, 2017 22:48
Registration is open now for tryouts for the 2017-2018 Synchronicity Youth Teams, for skaters aged 6 to 18. Go to https://www.londonskatingclub.com/pages/Synchronicity/Tryouts/ for more information and to register.
NEW DISCOUNTS FOR SPRING SKATING
posted Mar 10, 2017 12:34
Skate more, save more!
We are pleased that so many of our skating families have muliple skaters, or individual skaters that recognize the benefit of skating multiple days a week.
In order to make skating a bit more affordable for these families, we have increased discounts for skaters skating 3 sessions or more a week, and have also increased our discounts for families with 3 or more skaters in their immediate family.
Multi session discounts:
If an individual skater registers for more than one eligible full season program (synchro tryouts excluded) in Spring 2017, the following discounts will apply:
2 sessions 5%
3 sessions 10%
4+ sessions 15%
Multi skater (family) discount:
5% off ALL programs, if 3 or more members of an immediate family register for skating programs (immediate family members include parents and all dependent children living at the same address)
All of these discounts and pricing adjustments will be automatically added to your invoice if the qualifications are met.
Ticket Ice:
As with last year, ticket ice reductions are available for skaters also purchasing other London Skating Club programs, as described in the program description. Eligible discounts will be applied at checkout. Ticket ice is not eligilbe for the new multi-session or multi-skater family discounts. Price adjustments will be automatically applied at checkout only if ticket ice is purchased at the same time as the regular programming. If the Ticket ice package is purchased separately after regular registration, please contact the office to have your invoice adjusted.
MARCH BREAK SKATER DEVELOPMENT SEMINARS
posted Feb 28, 2017 23:15
To all London Skating Club Figure Skaters!
Get in on some March Break skating fun. As members of the H.O.M.E. (Huron, Oxford, Middlesex, Elgin) region of the Western Ontario Section of Skate Canada, you are invited to the following March Break Skater Development Seminars:
Fees are $25 per day -- your skater may register to attend one or both sessions.
Registration will begin at 8:30 am, with the seminars beginning at 9:00 am promptly, until 3:00 pm.
Skaters are asked to bring their own bag lunch, running shoes and bottled water.
Skaters will participate in both on and off-ice training sessions during the day.All skaters working on their Pre-Preliminary (STAR 2) – Senior Bronze Freeskate Level are welcome to attend. Skaters will be divided according to their level of free skate.
For more information please go to WO website: http://www.skating-wos.on.ca/programs/woprograms.htm
Registration deadline is extended until the end of this week March 7, 2017: online registration only
If you are unsure of your skater's skating level, or whether they are qualified to attend these seminars, please speak to your private or group coach!

2016 TAX RECEIPTS NOW AVAILABLE
posted Feb 08, 2017 14:23
Tax Receipts have now been generated for the 2016 Children's Fitness Tax Credit.
Receipts have been generated for every skater, aged 16 and younger, that particpated in an eligible* London Skating Club skating program during the 2016 calendar year.
To qualify for this tax credit, a program must:
be ongoing (last at least eight consecutive weeks or, in the case of children's camps, five consecutive days);
be supervised
The following fees paid to the London Skating Club ARE eligible for the tax credit, and will appear on your tax receipt: the yearly Skate Canada membership fee, registration in ALL Fall/Winter and Spring skating programs that are 8 weeks in length or longer, membership on any of our Synchronicity Skating teams, and our week-long summer day camp.
The following fees are NOT eligible for the tax credit, and will not appear on your tax receipt: our individual summer skating sessions (daytime or evening), as the summer season is a maximum of 6 weeks long, and spring Synchronicity tryouts. The requirement for a supervised program also eliminates any of our Ticket Ice Packages as eligible fitness programs. As well, the $40 fee paid for the Ontario Skater's Fundraising Promotional Booklet is not eligible for this tax receipt.
The 2016 tax receipt may include fees from:
any installment payments made after Jan 1 2016 for eligible Fall/Winter 2015/2016 skating programs
all payments made for 2016 Spring programs, and 2016 Summer camp
any installment payments made up to and including Dec 31, 2016 for Fall/Winter 2016/2017 skating programs

note that installment payments made after Dec 31, 2016 will not be added to this receipt
All receipts have been sent to the primary email address on your London Skating Club member account. If you did NOT receive a receipt (and believe you should have), please take the following steps:
Check your junk/spam filters for emails from info@londonskatingclub.com
Log into your member account at https://www.londonskatingclub.com/login/, and double check your email address: go to My Account > Account Details (on tab under 'Welcome to Your Family Account'), and click the pencil to edit
Check for tax receipts generated online: My Account > Tax Receipts (on left sidebar) -- click the magnifying glass icon to view and print any tax receipt
Contact the office for assistance, and provide the skater's full first and last name, as well as information about what programs you think you are missing.
If you need a tax receipt generated for anyone over the age of 16, please contact the office and be sure to give us the skater's full first and last name. We will generate a receipt for you manually.
If your tax receipt is addressed to the child instead of the parent, then your member account needs to be edited to ensure that the PARENT'S contact information is listed as the main contact, rather than the child. To have your tax receipt corrected, email the office, and provide the PARENT'S full name, address, email address, phone number and date of birth. We will correct your account, edit your tax receipt, and email you a new copy.
For more information about the Children's Fitness Tax Credit: http://www.cra-arc.gc.ca/fitness/ NOTE that the amount of the refundable children's fitness tax credit was reduced to $500 from $1000 for the 2016 tax year, and will be eliminated completely for the 2017 tax season.
PRECANSKATE, CANSKATE, PARENT & TOT SHOW SIGN UP DEADLINE - FEBRUARY 5TH - 11:59 PM
posted Feb 04, 2017 16:44
This is a reminder to all our PreCanSkate, CanSkate, Parent & Tot skaters that are registered in current winter program or full season programs, that the registration deadline that was extended to sign up to participate in the 110th Anniversary Ice Show Gala on Sunday, March 26th at Thompson Arena, Western University - 4:00 is fast approaching.
Registration to participate in the show for our PreCanSkate,CanSkate, Parent & Tot skaters closes at 11:59 on Sunday, February 5th in order to get costumes (helmet covers) ordered in time for our dress rehearsal and show.
Go into your account look for Gala and the day of the week your skater currently skates in the full year/winter program and sign up today. Skaters must be in a current winter (Jan-end March session) or have signed up for the full season. Skaters that only signed up for the Fall season are not eligible to participate due to practices being held on regular sessions from here on in.
2017 ONTARIO SKATERS' PROMOTIONAL CONTEST TICKET STUBS
posted Feb 04, 2017 16:38
This is a reminder that all 2017 Ontario Skater's Promotional Content Ticket stubs are now past due.
If you haven't turned in your stubs, please bring them to the CanSkate table or the London Skating Club Office located at Nichols, down the hall from A pad. If no one is in the office, slide them under the door.
Thank you for your support of the London Skating Club and all Ontario skaters by participating in this contest!