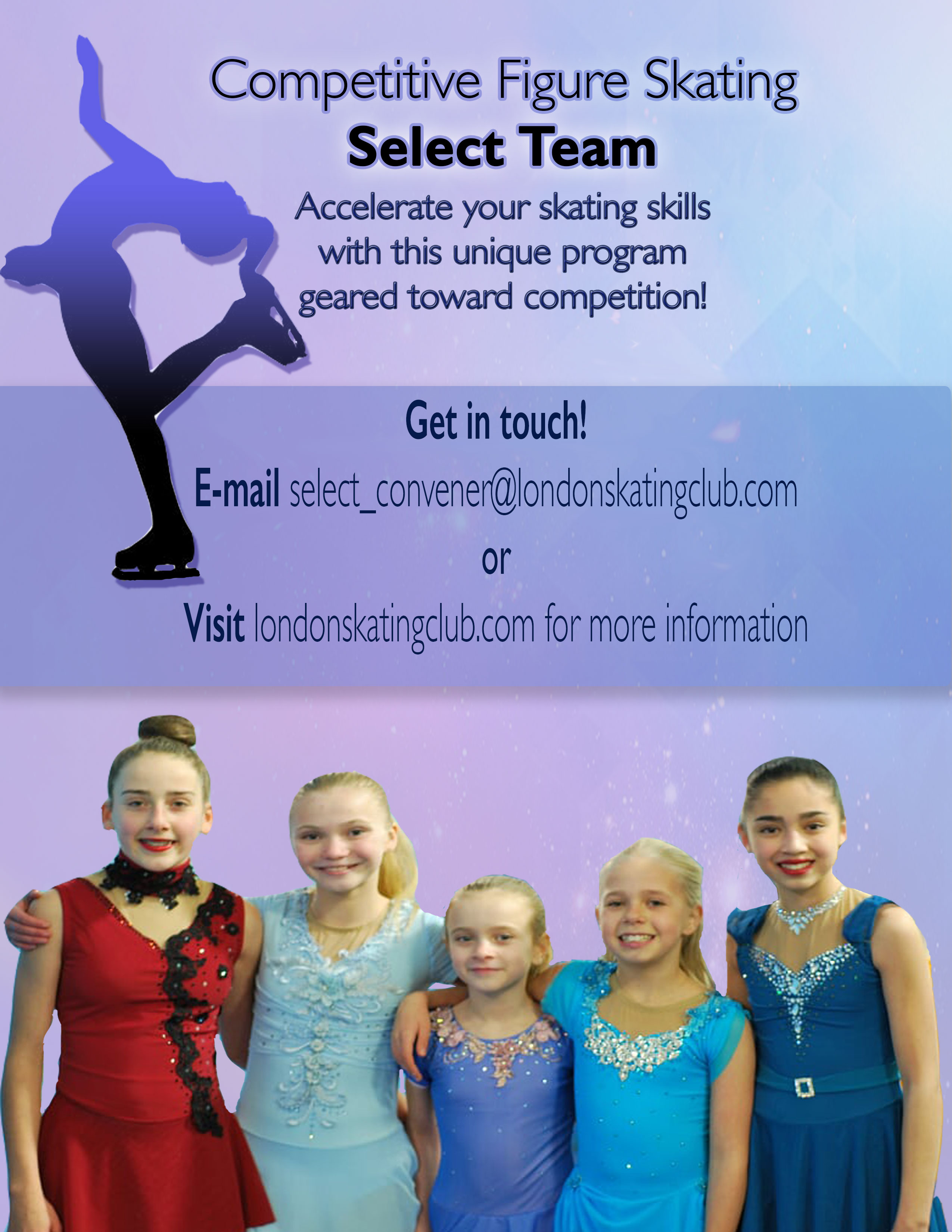 The Select Team
---
Our Select Program offers young figure skaters the opportunity to further develop their on-ice and off-ice skills by enhancing their skating experience.
The Select Team was first piloted at the London Skating Club in the Spring of 2015, and over the past two years the program has grown into a four level program, with young skaters learning new skills, passing tests, and participating club ice shows and in various figure skating competitions throughout the skating year. The main focus of the program is to help skaters transition better into the STARSkate, SynchroSkate and Competitive Streams of Skate Canada. In the early stages of development, the program has been open to skaters based on talent identifcation on our exisitng skating sessions.
As the program continues to grow, we are pleased to announce that enrollment in the program for Fall 2017 will be through a tryout/evaluation process, which is open to all skaters currently working on CanSkate Level 3 and higher. Coaches will "Talent ID" skaters based on but not limited to ability, work ethic and listening to instructions. A parent may also request an evaluation anytime by asking the Select coach or the CanSkate Supervisory coach at each CanSkate session, or by emailing select_headcoach@londonskatingclub.com.
---
What is Select?
Select is a program that provides Talent Identified skaters a more intensive training program to allow them to fully utilize their skills with the end goal of developing competitive skaters in a group coaching model and team environment. The program for the 2017/2018 skating season will be divided into four levels:
Level 1 is Advanced CanSkate for skaters typically but not limited to CanSkate Level 4-6. Skaters will skate two sessions per week, both group format one of which will be on the CanSkate session of their choice.
Level 2 is two sessions per week, both group format
Level 3 is three sessions per week, two of which are group format, and one semi-private format
Level 4 is four sessions per week, two of which are group format, and one semi-private/private format, one private.
Skaters will be coached exclusively by select team coaches, and coaching fees will be included in Select team fees at time of registration
Note that not all skaters who try out will be a good fit for the program, and may be encouraged to register in fall programs to which they are better suited.
What skill sets of skaters qualify? Is there an Age Limit?
Skaters will be invited to attend the program based on their skills, work ethics, passion for the sport of skating and ability to take instruction. Age is not considered when evaluating. Skaters should be working on CanSkate Stage 3 at a minimum before trying out for the Select Team.
When will invitations be sent?
Invitations for the Select 2017/2018 program which begins September 2017 will be sent on or about April 30th. We are aligning to the date the Synchronized Skating invitations will be sent to allow skaters and parents to review their family specific constraints to allow skaters to pick which works best for them. The Date to decide will be included on the invitation. Acceptance will require a commitment to the program however the exact days and times will not be available until the summer because we will not know what days or times the City will be allocating ice to the club until that time.
My skater is currently a part of the select team for fall/winter/spring 2016/2017. Do they have to attend Try-outs to maintain their place on the team?
Yes, all interested Skaters are required to participate in the try-out. In part for the experience and in part to allow the coaches to evaluate your progress and allocate you to the proper Level of the program for the 2017/2018 year.
I love Synchronized Skating or I plan to play hockey. Is this program for me?
While the higher stages of Select are geared toward preparing skaters for competitive singles figure skating, the early stages of Select will be foundational for all aspects of skating, geared toward the accelerated development of skilled/powerful skaters. Skaters may choose to transition from this program after these foundational stages, with a strong skill set that will allow them to excel in all skating opportunities within the Club, such as Power Skating for future hockey players, singles skaters who wish to focus on developing their skating outside of the group model or synchronized figure skating when that time comes. The intent is not to restrict anyone to a single aspect of Skating at the early stages of their development, but allow ALL skaters the chance to excel.
I cannot make one of these Try-out dates. Will there be future opportunities?
Skaters can request for an evaluation at any time after the initial try-outs are completed in April. However, since space will be limited we encourage all interested skaters to give this a try in April to maximize your opportunity to participate.
Can a skater join after September 1 2017?
Yes. A skater can join the program, if invited after an evaluation, anytime during the year. Fees will be prorated. If you are already in non-Select sessions, the unused prorated fees you have paid will be applied to the Select fee. No administration fee is changed when transfering from a non-Select LSC session to the Select program.