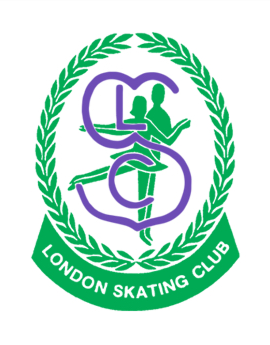 ---
Top Content Title
This is an additional section to be able to add content
London Skating Club Online Registration
This document explains how to complete the online registration for any London Skating Club session(s).
Registration is completed on the London Skating Club's website at: www.londonskatingclub.com/registration
---
Login to website, or create a new Member Account:
If you have not already created a login for our club's website, then click on Login (top right corner) and follow the instructions under "First Time Registering?". If you used our online registration system since the 2014-2015 skating season, then DO NOT create a new account. Simply log in using the email address you used for the previous year's registration.
When creating a new account, note that the parent or adult skater should register first, under the 'Member / Parent Information' header. This is the person invoices will be issued to, and email communications will be directed to, NOT necessarily the skater in the program. DO NOT enter a child skater's name as the member. If you are an adult that also intends to skate on an LSC session, ensure you check the box beside the text "I will be registering myself into programs".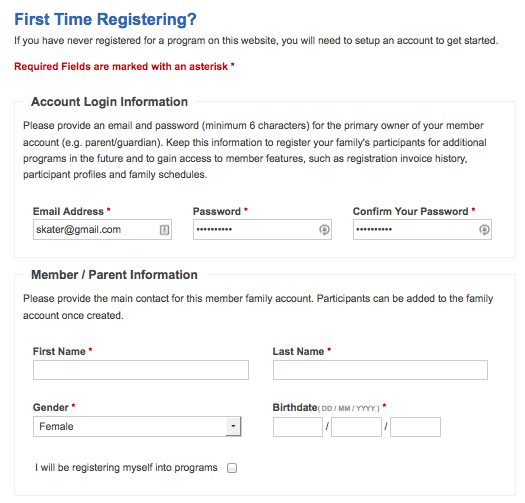 To finish creating a new member account, enter your address/contact information. If your household consists of two parents that would both like to receive club email communications, please enter the second parent's email address.
Read through the Message List descriptions, and consider opting-in to the "News, Upcoming Program & Registration Information" to ensure you receive our email newsletters and information about future programming options. Note you can opt-out of this mailing list at any time.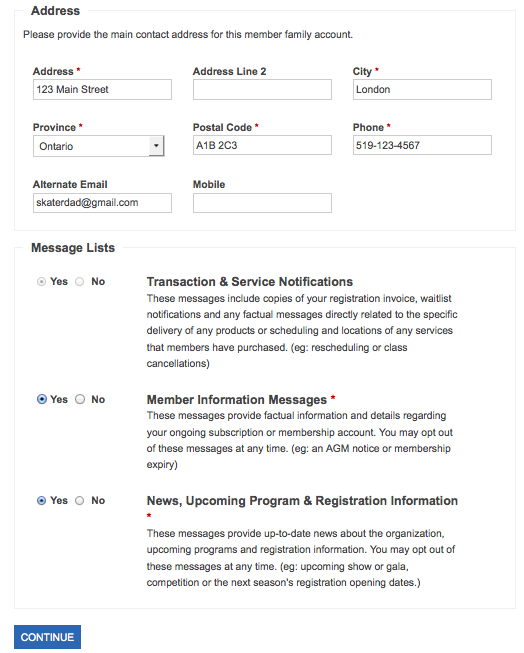 ---
Create a Participant Profile(s):
Once you have created your Member Account, create a Participant profile for EACH skater you wish to register into an LSC program. If your skater has participated in a Skate Canada program before (at the London Skating Club, or elsewhere), they should have a Skate Canada Number assigned. If you know this number, please add it in the participant's profile. If you know which skating level your skater is at, please input this information under "Highest skating test/levels". If your skater currently takes private lessons from a London Skating Club coach, then select that coach's name under the appropriate drop-down menu.
NOTE: You will select the specific programs for each skater at a later step. If you were referred to the club by a friend, please be sure to tell us their name under the "How did you hear about us?" field, so we can ensure that skater is awarded their "refer-a-friend" credit.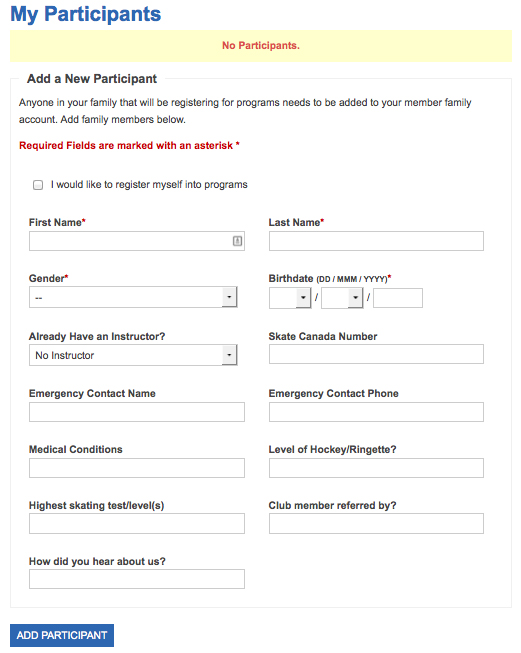 ---
Register for Program(s):
Once you have logged in or created a new member account, click on "Registration" in the main menu bar, to start the registration process.

Once on the Registration page, you can filter your registration options using the Quick Navigation menu on the left side. For example, to register for a CanSkate program, click on the blue 'CanSkate Registrations' box: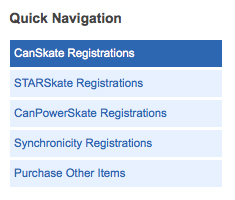 This will modify the display to only show the programs you are interested in registering for. Review the time and location of the programs offered. Click on the title of each session for more detailed information, including equipment requirements and no skating dates. Once you have chosen the session(s) you wish to register for, click the blue 'Register' button to the right of the desired program.
If you have multiple skaters in your family, a small box will pop-up asking you to select which skater you wish to enroll in the selected program.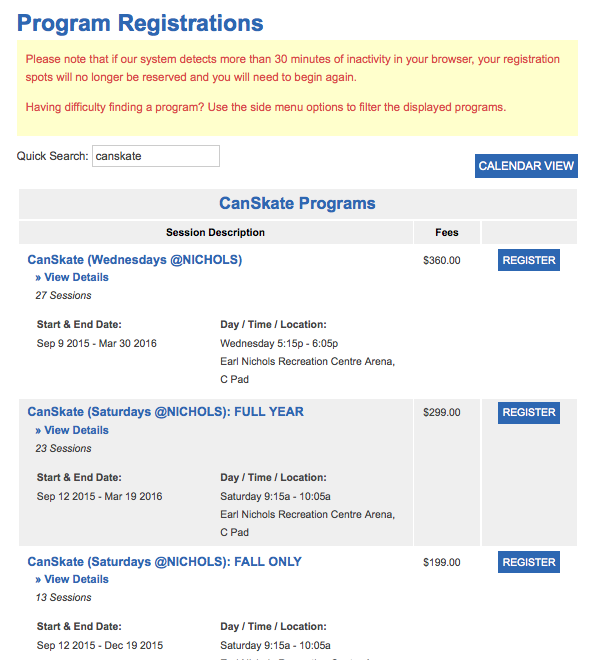 ---
Complete registration and Check out:
You will then be brought to the Registration Review page. This page will show the fee for the selected program. If you wish to register for a an additional session, either for the same skater, or an additional family member, click the 'REGISTER FOR MORE PROGRAMS' button underneath the first program.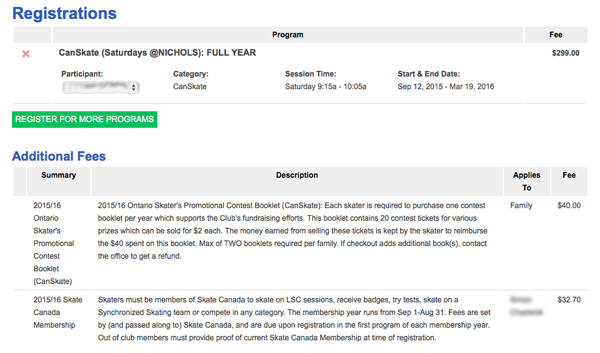 Underneath the selected program(s), you may see two additional fees:
1) a $32.70 annual Skate Canada membership fee for each partipant on the invoice. This fee will appear the first time you register for a program in the current registration year, running September 1 through August 31,
2) a $40 Ontario Promotional Booklet fundraising fee, charged a maximum of two times per family during the Fall/Winter registration season, with registration in any CanSkate or STARSkate program
Once you have selected all the programs you are interested in, double check the items on your invoice and make sure they are correct. Then, click on "CONFIRM & REGISTER" to take you to the payment page.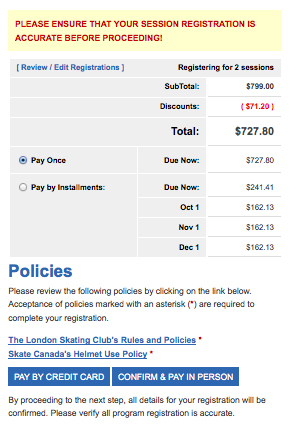 ---
Payment Options:
If you have credits with the London Skating Club, for a refund or volunteer service, you may apply this credit to you balance on the payment page. Click the check box to the left of the 'Use available credit' line underneath the TOTAL. This amount will be removed from your invoice.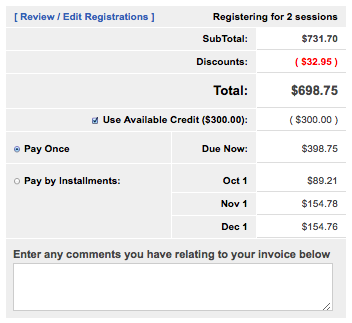 You now have the option to select "Pay Once" or "Pay by Installments". Choose the option you prefer. NOTE that different installment plans apply to different programs (two installments for half-session registrations, four installments for full-session registrations, or six installments for synchronicity teams).
Underneath the invoice total is a comment box to communicate with our registrar. If you are an out of club skater, with a valid Skate Canada membership at another club, please state this information here, including the name of your home club, so we can remove this fee from your invoice. If you plan have part/all of your registration fee paid through JumpStart, KidSport, or similar organization, note this information here, and then select 'Confirm and Pay in Person' for payment method.
You are almost there! You now have to click on "The London Skating Club's Rules and Policies". Read the policies on the pop-up window and select "Accept". Do the same for "Skate Canada's Helmet Use Policy".
If you would like to "PAY BY CREDIT CARD" then select this option. If you have elected to pay by installments, then these installments will be automatically charged to your credit card on the indicated dates.
You also have the option to pay by cash or cheque or etransfer (preferred). If this is your preference, then select "CONFIRM & PAY IN PERSON". You must then deliver post-dated cheques or cash payments to the London Skating Club office.
If you wish to pay by debit card, or manual credit card processed on the office terminal, or to apply a JumpStart payment to your invoice, then also select "CONFIRM & PAY IN PERSON".
If you elect to pay by credit card, you will be presented with a form to enter your credit card information. This information is captured securely and processed by Moneris, our payment processing provider. The London Skating Club does not have access to your credit card information and nor do we store it on our database.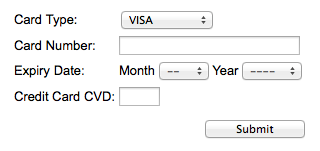 If you elect to pay by cash, cheque or etransfer (paymentslondonskatingclub at gmail.com), please follow the instructions on your emailed invoice to remit payment to the office by the appropriate deadlines.
That's it! A copy of your invoice will be sent to your email address. We really appreciate your involvement and support of the London Skating Club. If you have any difficulties with the registration process, please don't hesitate to contact us at the office.
---
Registration Discounts:
There are 2 discounts that skaters may be entitled to.
Multi-session Discount:
If a skater enrols in 2 or more full year (Fall/Winter) sessions, then a 5% discount will automatically be deducted from your invoice when you register online. This is cumulative for a given season. If you enroll for two sessions on different invoices, when you register for your second session, the 5% discount for both 1st and 2nd registraitons will be automatically applied to the second invoice.
NOTE that registration on a Synchronicity synchronized skating team counts as a 2nd qualifying session, but the synchro session itself is NOT eligible for the 5% discount. If you register a skater for a full year CanSkate or STARSkate session on a first invoice, and then register for Synchronicity on a second invoice, the CanSkate/STARSkate 5% discount will be applied on the second (Synchronicity) invoice.
Multi-skater Discount:
If you register for skating sessions for more three or more skaters in your immediate family, then the third and subsequent skaters (with the lowest registration fees), are entitled to a 10% multi-skater discount. This is not added automatically at the checkout, and must be processed manually in the office. Please forward your completed invoice via email to our office, and request that multi-skater discount be added to your account.
Bottom Content Title
This is an additional section to be able to add content