---
Top Content Title
This is an additional section to be able to add content
London Skating Club Year-End Seminar:
featuring Roselle Doyle
LOCATION: Nichols Arena 'C' Pad, 799 Homeview Road, London
SCHEDULE: Sunday March 20, 4:00-7:30pm
4:00-5:00

ish – Off-ice instruction: upper body movement- how to move arms, heads and torso within the space and learning different tools to become a good improvisational skater.

5:00-5:30

– Break/change/skates on

5:30-7:30

– On-ice: taking what was learned off-ice onto the ice, plus movement opposites, group improve work, hydro blading.
QUALIFICIATIONS: Junior A, Junior B and Senior skaters, currently registered on a London Skating Club 2015/2016 fall/winter program.
Only 25 spaces!! Register now! Quick Search: Seminar

---
A little bit about Roselle Doyle: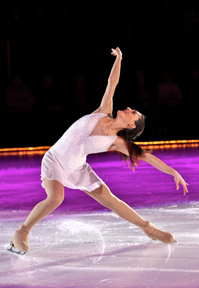 Roselle Doyle is a world-renowed professional figure skater and choreographer and former competitive skater, with decades of performing experience under her belt. This Montreal native competed in England and became a British Junior Silver Medalist and Scottish Junior National Champion. Upon returning to Canada, Roselle turned professional and has performed a principal soloist in numerous international ice shows.
Roselle recently performed as a principal soloists in the Mirvish production of 'Blades on Stage' at the 'Princess of Wales' theatre in Toronto and over the years Ms. Doyle has performed alongside of Elvis Stojko, Kurt Browing, Brian Orser, Jamie Sale and David Pelletier, Joannie Rochette, Jeffrey Buttle and more.
Roselle has choreographed the ice show at Busch Gardens Willamsburg alongside Emmy award winning director Sandra Bezic and Tony award winning lighting designer Ken Billington.
Roselle has choreographed 'Bon Voyage' for the CNE which starred Canadian Olympic champions, Tessa Virtue and Scott Moir.
Roselle has designed programs for Elvis Stojko, Brian Order to name a few.
Presently, Roselle is concentrating her efforts with her own company, Beau Idéal, a theatrical skating & performance company dedicated to ice and stage show excellence and artistry.
---
To skate on this session, a skater must meet one of the following qualifications:
Junior A: Complete Preliminary Dance test (includes Dutch Waltz, Canasta Tango AND Baby Blues) OR Preliminary Skills successfully tested OR the skater can consistently execute and land the following jumps: waltz/salchow/toe loop. May skate on Thurs Prelim Groups.
Junior B: Complete Junior Bronze Dance test (includes Swing Dance, Fiesta Tango, AND Willow Waltz) OR Junior Bronze Skills successfully tested OR the skater can consistently execute and land the following jumps: lutz/loop/flip. To skate on a Junior/Senior combined session you must meet these qualifications.
Senior: Complete Junior Silver Dance test (including Keats Foxtrot, Rocker Foxtrot, Harris Tango & American Waltz) OR Junior Silver Skills successfully tested OR Junior Bronze FreeSkate successfully tested (both elements/solo), or Junior Bronze FreeSkate Elements only IF a skater has plans to compete in an out-of-club solo or partner (pairs or dance) competition in the upcoming year that precludes completion of the complete Junior Bronze FreeSkate test.
Bottom Content Title
This is an additional section to be able to add content