Fundraising Archive

The Ontario Skaters' Promotional Contest
Tickets Due Feb 1, 2016
***The 2016 Winning Numbers are now posted on the Western Section page at http://www.skating-wos.on.ca/news.htm***
The goal of the London Skating Club is to provide affordable programming for all skaters at the London Skating Club. Without your help, this won't be possible.
This program is a wonderful opportunity for skaters and clubs throughout the Province of Ontario to fundraise and create public awareness of the sport of figure skating. This is the club's only major fundraiser. Over half of proceeds collected from the sale of the booklet go directly to the London Skating Club to off-set ice expenses, which in turn helps not only your skater, but all members of the London Skating Club. The balance of the proceeds support skaters across Ontario with items such as bursaries, seminars, etc.
The Promotional Contest campaign is coordinated by Skaters' Marketing of the Western Ontario Section, Northern Ontario Section, Eastern Ontario Section and Central Ontario Section.
WHAT IS IT?
A Promotional Contest with tickets distributed in Ontario. There are 20 tickets per book. The suggested donation is $2.00 per ticket. Value of the book is $40.00.
HOW DOES IT WORK?
- The first two skaters per family registering at the London Skating Club in any CanSkate, StarSkate or AdultSkate skating program must purchase a ticket book from the London Skating Club for $40 upon registration.
- Skater will recieve their Promotional Contest Booklet at one of the skating sessions in the fall.
- Skaters/parents sell the tickets for $2 each between booklet receipt and the end of January. You keep the money from these sales, so in essence this costs you nothing, but helps your skater/club.
** Skaters/parents are responsible to return the ticket stubs to the CanSkate session table or the London Skating Club office (at Nichols Arena, down the hall from 'A' Pad) no later than February 1, 2016. **
- Returned ticket stubs will be submitted for the final draw at the Skate Ontario Championships on March 14, 2015 at the Cassie Campbell Community Centre in Brampton.
If you sell all your tickets and would like to purchase an additional booklet, please contact the office.
HOW DO WE BENEFIT?
A portion of the proceeds of ticket sales stays with the club, to offset ice fees. The remainder goes to support Ontario skaters with bursaries, seminars, and special programming.

2015 Contest Prizes
First Prize: 50th Anniversay Ford Mustang (est. Value $30,000)
Second Prize: 55"Flat Panel Entertainment System (est. Value $5,000)
Third Prize: $3,500.00 Travel Certificate
Fourth Prizes: Win 1 of 5 Apple MacBook Air 13" computers with computer bag
Fifth Prizes: Win 1 of 5 Apple iPad Mini's with Retina 16GB WiFi
A total of 13 prizes will be awarded!
Thank you for participating in the 2016 Ontario Skaters' Promotional Contest Booklet.
Several years ago, the London Skating Club sold the winning ticket for the grand prize of an automobile!
QSP Family Reading Magazine Subscription Fundraiser
** Order magazines year-round from online store **


We thank you and appreciate your participation. Every order counts, more than ever.
These funds will be used to support important goals and programs that benefit your children.
Over 600 magazine titles — there's a great selection and something for everyone
at a great value. Magazines like SI Kids, Canadian Living, Everyday with Rachel Ray, The Hockey News and more.
Renew your favourite subscription, order a NEW title, or give a Gift – Holiday Gift subscription cards are available. See order form for details.
Skaters receive cool prizes for all their hard work! Pick A Prize Program – sell and then select the prize you want based on the subscriptions sold. Important….Make sure to send your selection in with your order form!!
The PRICES ARE FANTASTIC – however if you have a "better offer" price coupon just attach it to the order form and pay that price! We want you to get the best deal possible, and the club to benefit from the sale.
Profit will be a 50/50 split between the families and the club. The more you sell the more credits you earn! Credit will be given by March 2016.
Think this is too small to be worth it? See what this member says:
Last year my dad took my order form to his work and put it outside his office. He sold 13 magazines with over half of them being Christmas presents and many of the others renewals of magazines his fellow workers already subscribed to. Between those orders and a few I sold to family and friends I made $142.50 in credits!
---
How to Order:
---
Order Magazines Online Year-Round:
Go to www.qsp.ca to order online.
Use your group Code: 3745304 and follow the instructions online.
Earn a prize just for sending 12 or more emails to friends and family.
NEW!!! Invite Facebook friends to support your skating club. Check it out at QSP.ca!!!!
Go Green! Paperless Fund Raising!
Easy pay with credit cards.
Shop 24 hours a day, year round.
Online orders are processed immediately, save up to 4-6 weeks delivery time.
Anyone from anywhere in Canada can help!
---
For more details and instructions to create your account to begin selling, see the attached: London Skating Club QSP 2014.pdf
For more information, email Tina at tinafarren@hotmail.com
Holiday Pop Concert Dec 18, 2015
Silent Auction and Sponsorship Opportunities for Businesses and Citizens.
See the bottom of this page for donations or sponsorships made to date
The London Skating Club is holding its Holiday Pop Concert in December which will showcase its skating talents to the London Community, with proceeds of the event going to support skaters at the London Skating Club, as well as to "Mitchell's Jar of Hope", in support of Muscular Dystrophy research through Jesse's Journey & the London & Region Chapter of Muscular Dystrophy Canada.
This year the London Skating Club is proud to present its "Holiday Pop Concert" in memory of Mary Burdon on Friday, December 18, 2015@ 6:00 pm, at Earl Nichols Arena, "A" Pad, which is located at 799 Homeview Ave, in London. Mary was a volunteer of the Club for over 62 years before her passing earlier in the year.
The club is looking for sponsors for this event and have listed various levels of sponsorship. We hope you can help us out! If we are able to secure enough sponsors to cover the event costs, our plan is to donate 100% of the attendee entrance revenue to the London Food Bank.
Benefits to donations and/or Sponsorships:
Silent Auction Donation
Your name/business name will be published in the program
Friends of the London Skating Club - $25.00 - $99.99
Your name/business name will be published in the program
Bronze Level - $100.00-$249.99:
Business card size ad in the program, mention of sponsorship in the London Skating Club newsletter
Silver Level - $250.00-$399.99:
¼ page ad in the program, mention of sponsorship in the London Skating Club newsletter, 2 tickets to the show
Gold Level - $400.00-$799.99:
½ page ad in the program, mention of sponsorship in the London Skating Club newsletter, 4 tickets to the show, website thank you, signage at the show, regular thank you announcements throughout the show
Platinum Level - $800.00+:
Show presenter on all promotional material, programs, tickets, press releases, full page ad, mention of sponsorship in the London Skating Club newsletters, 6 tickets to the show, website thank you, signage at the show, regular thank you announcements throughout the show.
If you would like to opportunity to have your name or business name visible to all of the spectators of this grand event, or have any questions, please contact us at the London Skating Club, 519-681-2640 or e-mail us at info@londonskatingclub.com.
Donations To Date
Please thank the following donators the next time you see them or visit their business
Silent Auction Item
Tim Horton's - Gift Basket
Mr. Kelly Marshall - Gift Certificates – 5 skate sharpenings
ToyotaTown - Winter tires and installation
Fowler Kennedy Sports Medicine Clinic - Shirt / Water Bottle
Hanford Tire - New car battery and installation
Wright Hair - Gift Package / Certificate
Trojan Technologies - Jackets, Shirts, Hats, Water Bottle
Anonymous - Pair Red Wing tickets (Dec 20 game)
Medeiros Family - Four tickets to a Knights game this season
Conrad Bedard & Kasey Farmer-Bedard - Tool Box and Handy-man accessories
Western Fair District - Four passes to Wine and Food Show, Jan 14-16, 2016
London Knights Hockey Club - signed Knights Jersey
Sante Dental - Oral B Electric toothbrush and dental items
Ice Moxie Skating Boutique – $95.00 Gift Certificate towards Jackson Excel Skates
Forest of Flowers – Wonderland/Southdale – Christmas arrangement
Missy Robinson - Epicure Gift Basket
Jen's Gems – one of a kind handcrafted & designed bracelet
Pointe and Pick Figure Skating & Dance Apparel - Gift Package
Nikki Fodor – handmade Christmas Cards
Debbie Chadwick – handcrafted bird house
West London Optometry – Dr. Beverly Dodge – sunglasses
Macrotone Films Video & Photography - $175.00 Gift Certificate towards a Photography Package
Staples Tillsonburg - Gift Package
Toboggan Brewing Company - Brew Tour for six people, including a private tasting and $50 gift card
Heather Bowman & Jenyvette Hsia - Gift Basket
Jesse's Journey - Gift Donation
London & Area Chapter – Muscular Dystrophy Canada - Gift Donation
It's All About Me Esthetics & Nailcare – Spa package
RONA - Gift Donation
Dancewear Plus - $200.00 gift certificate towards a custom figure skating dress and some other gifts
Darlene and family - Gift Donation
Source For Sports London Teamworks - Gift Donation
London Honda - Gift Donation
Dance Essence – one week summer dance camp
Huron County Playhouse - show tickets
Positive Identity - Gift Donation
Julie Ryan and family - Handmade Pottery Casserole
Friends of the London Skating Club
Anonymous
Bronze Level
Who will be the first?
Silver Level
ToyotaTown
C.A.P.O.R. Windows and Doors
Kelly & Al Farmer and Family
Gold Level
Impressions Printing
Platinum Level
Who will be the first?
Domino's Pizza Day: Nov 16, 2014
Order one of these two great meals on our designated Pizza Day and by using one of the two promo codes a portion of the sale supports the London Skating Club. Medium promo code = 3361, Large promo code = 4361.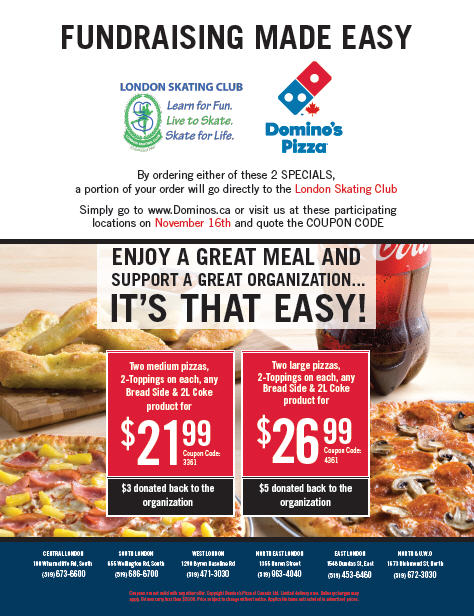 Mabels Labels: Ended Oct 19, 2014

A sticky opportunity has arrived at the London Skating Club and we want you to get excited as we are! Read on…
The London Skating Club Fundraising Committee has teamed up with

to offer you a chance to support your club and earn credits towards your future LSC registration fees.
If you work hard it is totally possible to "Skate for Free".
An email will be sent out to all registrants in the near future asking you to JOIN this great opportunity. It will also provide you with details on how you can Skate for Free.
For those of you wishing to capitalize on all those folks out there getting ready to label their kids back to school items…
JOIN NOW!!!
And here's how you do it…
Steps to becoming an LSC Mabel's Label fundraiser:
Please visit https://www.mabelsfundraising.com/c/13145
Scroll down and Click "Join Now" near the right side of the page by October 19th, 2014.
Enter in your profile information. If you are under 13, please ask your parents to create the page for you. Please do not include a photo of yourself, but rather a generic one.
Receive the "Welcome" email and get started, visit your Fundraiser page and select the "Manage" tab.
Promote your special page to friends and family! All orders made through your personal page will be credited towards you!
Have questions, we have answers – email hdbowman89@hotmail.com. Heather will be happy to help you get started.
London Knights 50/50 Draw: Sept 12, 2014
A big thank you to the following volunteers that helped to sell 50/50 tickets at the September 12, 2014 London Knights game and to help the event to be a big success:
Kelly Farmer (event lead organizer)
Tina Farren (organizing the event license)
Josee Smale, Kylie Smale, Julia Chadwick, Rheonna Murray, Angela Murray, Jermaine Murray, Nathan Farren, Brandon Smiley, Joe Chetcuti, Dave Mason, Gwen Olar, Lynda Davies, Victoria Parker, Ashley McGarry, Greg Komarnicky, Steve Komarnicky, Emily Vandenberg, Patsy Brown, Alyssa Nicholls, Randy Allensen, Steven VanDinther, Shannine VanDinther, Keira VanDinther, Anne Guerra, Chris Guerra, Amy Gleig, Ava Gleig, Randy Allensen.