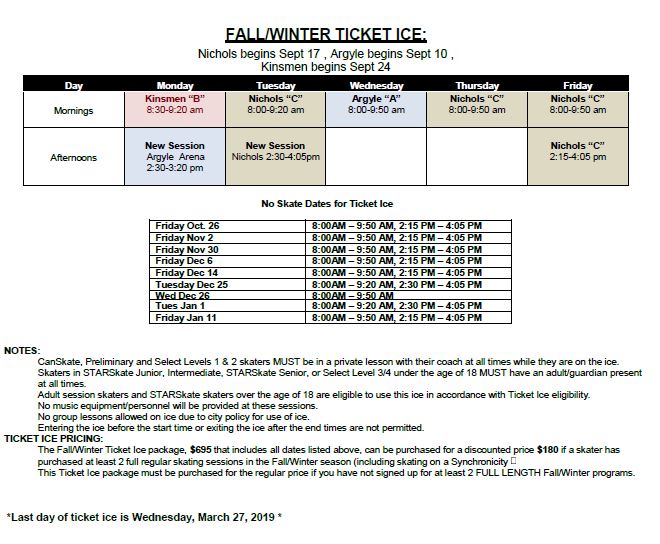 Who can skate on day/ticket ice?
CanSkate, Preliminary and Select Levels 1 & 2 skaters MUST be in a private lesson with their coach at all times while they are on the ice.
Skaters in STARSkate Junior, STARSkate Senior, or Select Level 3 under the age of 18 MUST have an adult/guardian present at all times.
Adult session skaters and STARSkate skaters over the age of 18 are eligible to use this ice in accordance with Ticket Ice eligibility.
Conditions of Use:
No guest skating permitted on ticket ice
No music equipment/personnel will be provided on Ticket ice sessions
Safety Considerations:
Skaters may not enter the ice surface before the stated session start time
Skaters may not remain on the ice after the stated session end time
Skaters may not occupy the ice surface when the Zamboni doors are open, or when the Zamboni is on the ice
Any skater not abiding by the above rules will not be covered under their Skate Canada member's insurance, and may result in the London Skating Club's Ticket Ice privileges being revoked
Any skater observed to be breaking these important safety rules (as reported by a coach, board member, or concerned parent) will be issued a warning upon the first offence/complaint. A second offence/complaint will result in the skater being removed from ticket ice for the duration of the season. Ticket ice fees will NOT be refunded if a skater is removed due to violation of the conditions of use
---
Ticket Ice Schedule: Late Summer 2017
Aug 9 – Aug 31 2017, Nichols Arena 'A' Pad (799 Homeview Rd)*
Day

Monday

Tuesday

Wednesday

Thursday

Friday

Mornings

Nichols "A"


8:00-9:50 am


Aug 14-28

Nichols "A"


8:00-9:50 am


Aug 10-31

Afternoons

Nichols "A"


2:30-3:50 pm


Aug 9-30
Nichols "A"


2:30-3:50 pm


Aug 10-31
For a list of 'no skating' dates for Ticket Ice, see:
Pricing: The Late Summer Ticket Ice package can be purchased for the following fees:
$50 if a skater has purchased at least 6 full regular skating sessions in the Summer season (guest skating excluded)

$220 if a skater has NOT purchased at least 6 full regular skating sessions in the Summer season
Ticket ice is not subject to any early bird or multi-session discounts, and ticket ice fees will NOT be pro-rated
To receive discounted pricing, add the Ticket Ice program to your shopping cart at the same time as registration for other programs. The price will be adjusted when additional programs are purchased simultaneously. If you purchase separately, register for the package, select payment by cheque, and then contact the office to adjust your invoice before payment.